Once upon a time an owl blinked its incandescent eyes, hooted in the stillness of the night, fluttered its wings softly, and left its home in a far away forest to visit our lands.
It made its nest in a lamp.
"c'est chouette" is both a joyful exclamation – 'it's brilliant!' – and the French word for owl, the magic creature inhabiting the inside of the lamp, defining and filtering its light.
It originates in the realm of fairy tales; a decorative lamp which opens its wings in an enchanted forest to hover over our homes and make its nest among us. The presence of the enigmatic owl hints at some mysterious thread woven into the fabric of our lives. We rush and hurry through the day but the mysterious stillness remains.
Magic belongs to difference.The turned off lamp is a pure object, ultra white and without any roughness; the switched on lamp unveils the uniqueness of each piece skillfully handcrafted; is colored shades of amber,
and like a moon it unveils the hidden patterns of the material.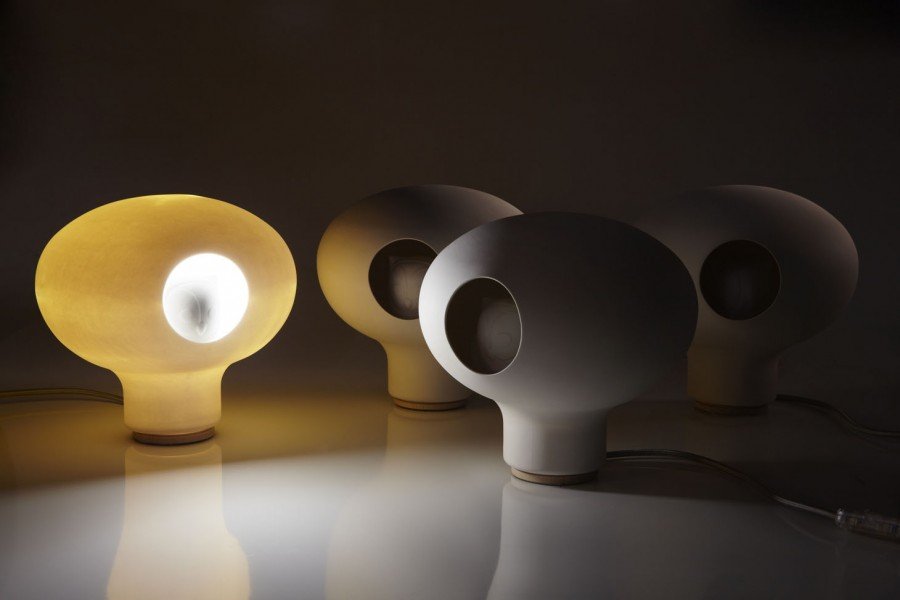 The lamp "c'est chouette" is made in white china hand-crafted in Faenza.
It comprises two parts: the outside characterised by a rounded, fluid shape which softly diffuses the light, and the magic owl inside which enfolds the light bulb and keeps watch over its rays by dimming its brightness.
As a result, the illumination blends gently with the outside environment in a perfect combination of functionality and poetry.
Both parts, the outside and the stylised bird inside, contribute to the
enchanted light it radiates. "c'est chouette" offers two different levels of intensity.
In collaboration with Simone Fumagalli – Quarchatelier